Book Store
Sign up to my email list for information about updates and pre-orders!
Welcome to my bookstore! My books are geared towards helping therapists and trainers impart life skills with their clients. The practical, "hands on" guides are chock full of demonstrations, activities, visualizations, handouts and worksheets that educate and offer clients practice to learn important life skills. All the resources provide structure and fit well with individual as well as group situations.
Ultimate Book Bundle
Ultimate-package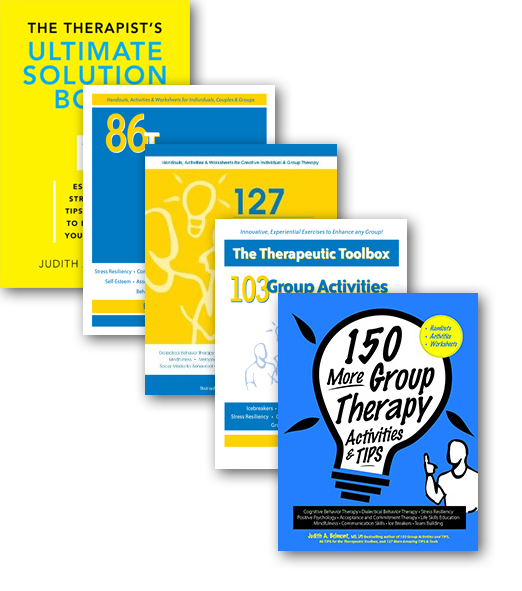 All four books of the "Tips and Tools for the Therapeutic Toolbox" published by PESI, and The Therapist's Ultimate Solution Book by WW Norton. Handouts, worksheets, activities for individuals and groups for overcoming common clients problems. Plenty of reproducible handouts.

Free priority shipping!

Order from Amazon
The Therapist's Ultimate Solution Book
Clients go to therapy wanting to change, but often they have no inherent knowledge of how to change. It's up to the therapist to build a well-stocked toolkit of life skills and psychoeducational strategies. This book answers the call, delivering an array of basic "solutions"—in the form of handouts,…
$34.95
127 More Amazing Tips and Tools for the Therapeutic Toolbox
123 More Amazing Tips and Tools For The Therapeutic Toolbox is Judy Belmont s third Tips and Tools book in PESI s bestselling series that has offered thousands of clinicians practical hands on strategies to help clients reach therapeutic goals. Judy Belmont's newest Tips and Tools address today's…
$23.38
103 Group Activities and TIPS (Treatment Ideas & Practical Strategies)
Fill your therapeutic toolbox with innovative, experiential exercises to enhance any group! Judith Belmont, M.S., has gathered this collection of "The Therapeutic Toolbox: 103 Group Activities and T.I.P.S. ( T reatment I deas and P ractical S trategies)" from more than 30 years of clinical…
$19.86
150 More Group Therapy Activities & TIPS
150 More Group Therapy Activities & TIPS is another treasure chest of hands-on and easy-to-use handouts, activities, worksheets, mini-lessons and quizzes that help clients develop effective life skills. There are over 100 mental health handouts and worksheets, and is ideal for not only group counseling but also for individual counseling…
$18.07
86 TIPS for the Therapeutic Toolbox (Treatment Ideas & Practical Strategies)
86 T.I.P.S. (Treatment Ideas and Practical Strategies) for the Therapeutic Toolbox features dozens of reproducible handouts, experiential activities, exercises, self-discovery tools and more. The topics covered are perfect for individual clients or in group therapy settings. Within the T.I.P.S. approach, each of the 86 activities, handouts or strategies is broken down even further…
$15.90
My Continuing Education Video Conferences